Getting ready to start solids with your little one? Think Baby Led Weaning might be for you? Make sure you've got everything you need! Check out these 10 Baby Led Weaning Must-Haves.

I absolutely love the #ditchthetray mentality of EZPZ and favor using their placemats
in place of regular plates and bowls for feeding my littles. Just remove the tray from your high chair and scoot it up to the kitchen table so baby can eat with the whole family! These genius mats
suction to the table so baby is much less likely to fling their food all over the kitchen, and they're adorable design makes it seem like your food is always smiling up at you. Their Mini Mat is fabulous for meals on the go!
2. Easy/No-Clean High Chair
This chair by Inglesina fastens to the table and is so small it's great for taking to restaurants or on vacation. Because it's so small, there's not much to clean, and it pairs perfectly with an EZPZ Mat at home or MiniMat on the go!

This basic chair from Ikea is adored by many a BLW parent and for good reason. Ikea's ANTILOP Highchair isn't quite as trendy and stylish as something like the Tripp Trapp by Stokke
, but it has a very neutral and sleek design made of plastic making it super easy to clean, lightweight and non-intrusive. Amazon sells it for $48 with Free Prime shipping, or you can stop by your local IKEA store and pick it up yourself for just $19.99!
When baby is in charge of feeding himself, things can get pretty messy! I recommend investing in a few "splat mats" for easier clean-up. These animal-themed mats from Kidkusion
are large enough to catch most spills, but you might want to try my tips for minimizing meal-time mess!
Once again, a tool to help you clean up the (inevitable) mess that is feeding your baby! These Easy-Clean Silicone Bibs from Healthy Happy Parent are adjustable, flip inside out in a snap, and have no fabric bits where food can get caught. I found them on the recommendation of a friend and haven't bought another brand since!
Steaming is one of the best ways to prepare fruits & veggies because unlike boiling, very little nutrients are lost to a cooking liquid. It's also pretty fast and very easy! Just fill a pot with a bit of water, insert this steamer basket filled with your choice of fruits or veggies, cover and cook until desired tenderness is reached. Bonus: It looks like a flying saucer so your kids will love to make believe martians are delivering their food! 🙂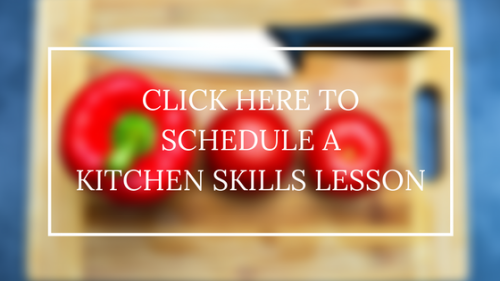 One of the most helpful tools when beginning Baby Led Weaning with your little one is confidence in the kitchen! Most prep techniques for baby's food are pretty basic, but it helps to have some knowledge of proper knife skills, essential cooking techniques like roasting, baking and steaming, and the ability to put together a meal plan and grocery list each week for your family. If you're a novice in the kitchen, or just looking for some pointers, let me help you! Sign up today for a Kitchen Skills Lesson and arm yourself with some cooking know-how.



These baking sheets Rachael Ray are non-stick, easy to clean, and come in various sizes. For just over $20, you get 3 baking sheets, a pretty awesome deal if you ask me. These will come in handy when you're roasting up some butternut squash, or baking some breaded tilapia fingers for you and your baby.
As a busy mother of 2 little ones under the age of 3, I really just canNOT get to the grocery store most days. It is nearly impossible to wrangle my 2-year-old through those aisles without a tantrum, and toting my 15lb. 6-month old in a bjorn is fun for a quick trip, but not so fun when I'm lugging big grocery bags into the house! Enter AmazonFresh! For $14.99 a month (in addition to your AmazonPrime membership fee) you get unlimited grocery deliveries. Seriously, what did moms do before Amazon existed?! They will delivery same-day groceries to your doorstep! And now that they acquired WholeFoods their inventory of fresh and organic produce and other items has expanded in an awesome way! Save yourself some time and energy and sign up for a membership today.

Written by the ladies who coined the term "Baby Led Weaning", The Baby-Led Weaning Cookbook offers up some inspired recipes to keep things interesting and fun! They're super easy and great for the whole family.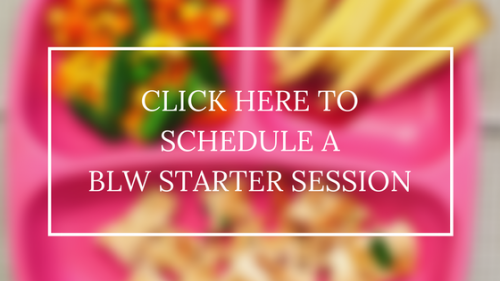 If you're nervous about starting solids with your babe, I'm available to help you offer those first exciting bites of food! Let's chat and make a plan for starting Baby Led Weaning with your child today. I'm available in person in the Denver area or online via Skype/Facetime/AlexaChat. Or take a look at my Getting Started With Baby Led Weaning post for some basic first steps!
I hope this list of Baby Led Weaning essentials was super helpful for you. Is there anything you would add? Anything you could do without? Comment below and let us know!
*As an Amazon Affiliate, Family Style Nutrition will make a small commission on each product sold from this post. There is no fee to you as the buyer, and opinions express on this page are my own, not endorsed or paid for by Amazon.