Have you decided to try the Baby Led Weaning approach to feeding your baby solids? Here are some fantastic ideas for the best starter foods, and the how-to info on preparing them!
Starting at 6 Months, these foods are great ways to begin introducing solids to your babe.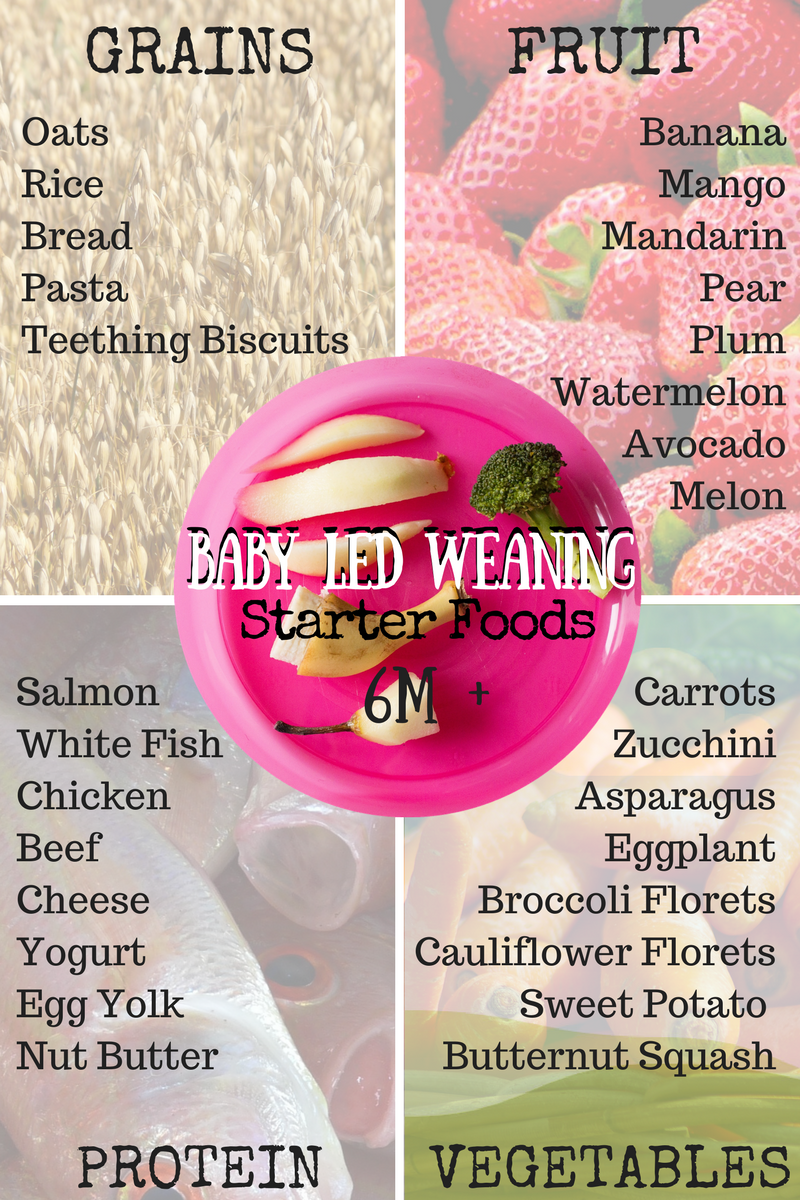 Preparing Grains

Oats– Prepare according to package directions, and help baby by spoon-feeding. Or, try these Oat Bars from No Drama Little Mama which are super simple to make!
Rice– Most of the teething biscuits on the market are rice based, you could introduce rice that way with no fuss. You can also try Trader Joe's Frozen Brown Rice, which is super sticky when prepared and serve plain. Another great idea are these Mini Salmon & Brown Rice Cakes from Little Grazers.
Bread – Toast and top with a bit of butter, nut butter or sunflower butter. Opt for a whole grain variety and limit to one slice a day since it tends to be high in salt/sugar and may cause constipation.
Pasta– Opt for pieces of pasta (cavatappi, rigatoni, penne) rather than spaghetti or linguine. It's easier for babies to grab. Choose whole wheat if possible for added fiber.
Teething Biscuits– Require no preparation and are perfect on the go! Some of my favorite brands are:
Baby Mum Mums

Happy Baby Organic Gentle Teethers

Plum Organics Baby Little Yums
Preparing Fruits & Vegetables

Fruits- The fruits I've listed above are soft and really require no preparation at all, aside from peeling (banana, mango) or slicing (watermelon). Slicing them into pieces shaped like a french-fry spear can be helpful since it will make them easier for baby to grab, but it's not necessary.

Vegetables– Steaming is the best method for prepping veggies for babies & toddlers since it retains the most nutrients of any cooking method. You want to cook them until you can squish a piece between your thumb and forefinger. Veggies like broccoli & cauliflower can be left a bit firmer so that baby can grab the stem and use it as a "handle".
Preparing Proteins

Steaming is suitable for proteins like beef, fish and chicken and will retain lots of nutrients. Cut these into french-fry like spears or shred into bits for baby.
Egg Yolks can be served scrambled or hardboiled. Beware of serving them runny since this heightens the risk of salmonella. Egg Whites should be saved until baby's first birthday, because the proteins might cause an allergic reaction.
Yogurt – This one will require a little assistance from mom or dad and can be fed with a spoon. You can also try these Fruity Frozen Yogurt Snacks from tbsp.com, though a plain variety of yogurt is preferred over a flavor since flavored yogurts contain LOTS of added sugar.
Cheese – No prep needed. Buy pre-sliced cheese from the deli, shredded cheese or a block of cheese and offer large chunks to baby.
I hope these ideas help you get started feeding your baby lots of different flavors and textures of food. Or if you've already started, what recipes or preparations have you used for your little one? Let us know in the comments below!