A berry crumble needs to be 3 things in my opinion: sweet, crispy and satisfying, and this recipe will not disappoint.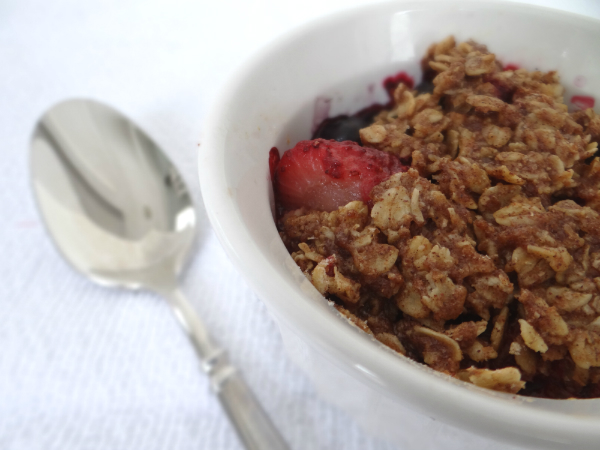 Berry Crumble
2015-02-10 08:26:23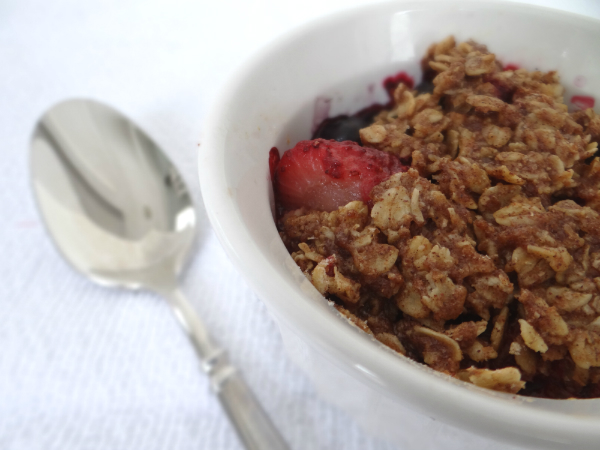 Serves 1
For the "Crumble"
4 Tbsp. Oats, Rolled
1 Tbsp. Brummel & Brown Yogurt Butter
1½ Tsp. Brown Sugar
1 Tsp. Cinnamon
For Filling
½ Tsp. Sugar
3 Oz. Frozen Mixed Berries
Instructions
Preheat oven to 350.
Combine "crumble" ingredients in a small bowl using a fork, so butter is distributed evenly and mixture is cohesive.
In a small ramekin, add 2 Tbsp. of the crumble mixture and flatten to create a bottom crust. Add frozen berries, and top with ½ Tsp. sugar. Top again with the remaining 2 Tbsp. of crumble. Bake at 350 for 20-25 minutes or until topping is golden brown.
Enjoy as is, or add a dollop fat-free whipped topping!
Notes
199 Calories - 35g Carbohydrate - 16g Sugar - 5g Fiber - 7g Fat
This recipe is GLUTEN FREE, EGG FREE & NUT FREE
Family Style Nutrition http://www.familystylenutrition.com/
---