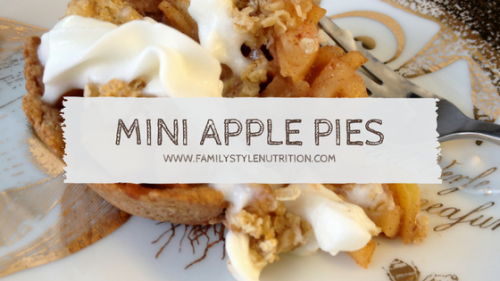 Dessert doesn't have to be a rare occurrence. Portion control is the key to satisfying a sweet tooth without over-indulging. I am a big fan of making desserts in individual portions, like mini loaves of "avo-canana" bread, or these mini apple pies! This recipe serves 8 and you can freeze them to have some stashed away treats for those nights you just want a little something.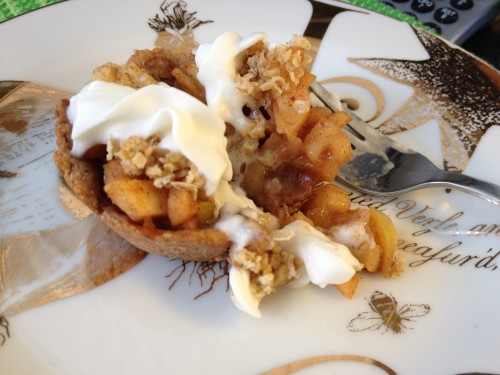 Mini Apple Pies
2017-10-18 07:54:48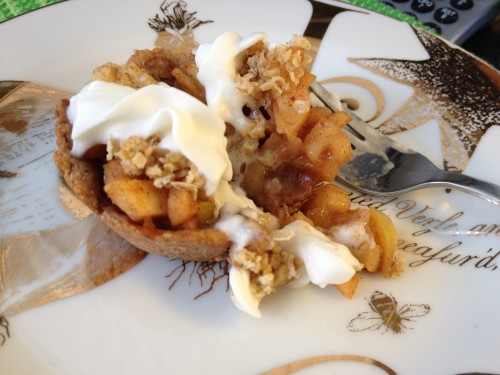 Serves 8
For the Crust
1 Cup Whole Wheat Flour
1 Tbsp Sugar
3 Tbsp. Butter
½ Tsp Cinnammon
5 Tbsp Water
For the Filling
2 Medium Honeycrisp Apples (peeled, cored, and chopped)
2 Tbsp Butter
1 Tbsp White Sugar
1 Tbsp Light Brown Sugar
1 Tbsp Cinnamon
¼ Tsp Nutmeg
2 Tbsp Water
For the Topping
½ Cup Oatmeal (uncooked)
1 Tsp White Sugar
1 Tsp Brown Sugar
1 Tbsp Butter
8 Walnuts (crushed)
Instructions
Preheat oven to 385 degrees.
Combine flour and sugar in a mixing bowl using your hands. Add butter and mix together until it starts to resemble coarse meal.
Add cold water, one tablespoon at a time and mix with your hands until a manageable dough forms.
After spraying with some olive oil or cooking spray, press the dough into your cupcake pan forming 8 mini-crusts.
Pop them in the oven and set a timer for 8 minutes.
While the crusts are beginning to cook, put your chopped apple, white and brown sugar, butter, cinnamon, nutmeg and water on the stove over high heat. Cook until the water and brown sugar come together to a kind of syrupy texture and the apples are tender (this should be about 8 minutes).
Combine topping ingredients in a small bowl with your hands and set aside.
Remove the crusts from the oven. Add a tablespoon of the mixture to each shell.
Top each mini-tart with just over a teaspoon of your topping mixture.
Return the tarts to the oven, baking at 385 for approximately 10-12 minutes. Top with some whipped topping, and dig in!
Notes
184 Calories - 23g Carbohydrate - 9g Sugar - 10g Fat - 4g Fiber - 3g Protein
THIS RECIPE IS MILK & EGG FREE
Family Style Nutrition http://www.familystylenutrition.com/

Let me know what you think! Comment below.