These baked eggplant parmigiana stacks are a healthier alternative to the traditional fried version. Have one alone as a meal, or pair half a stack with some whole wheat pasta for an Italian feast!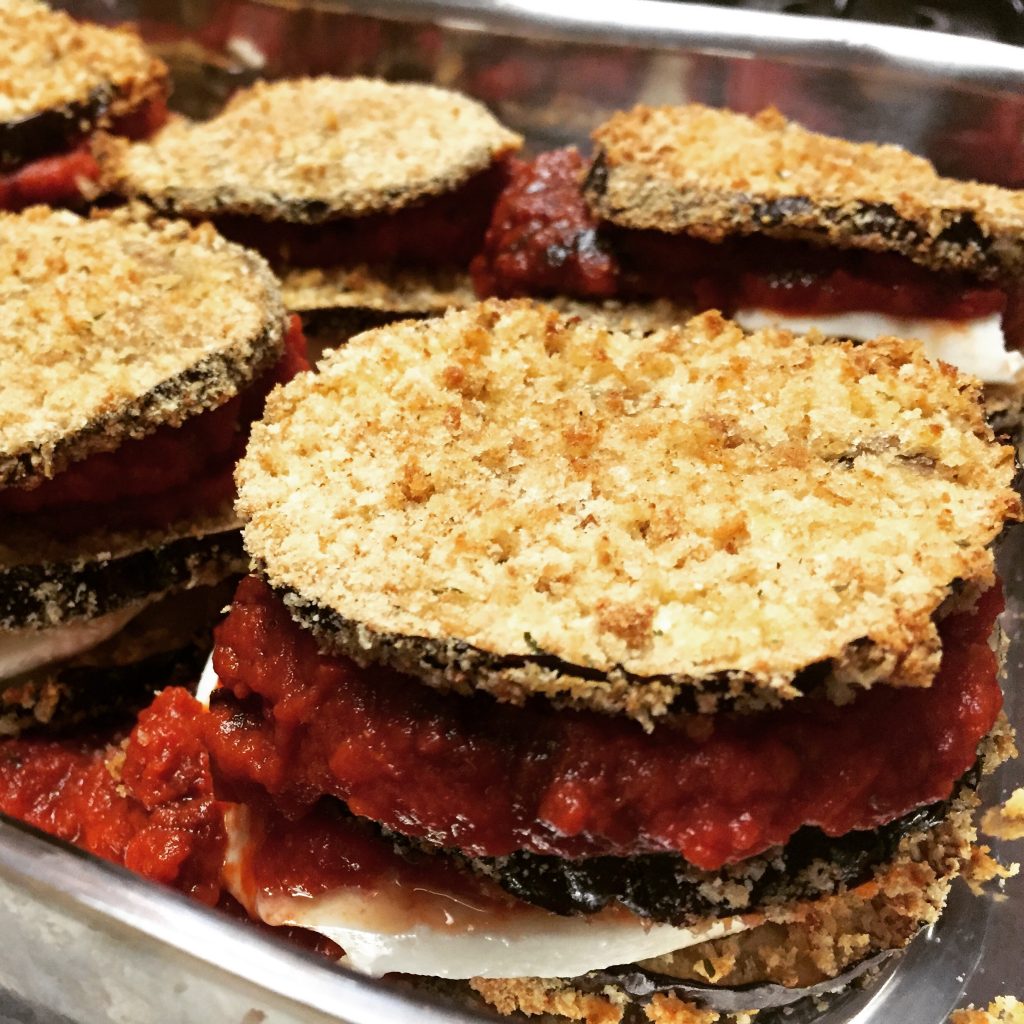 Baked Eggplant Parmigiana Stacks
2016-09-09 13:10:46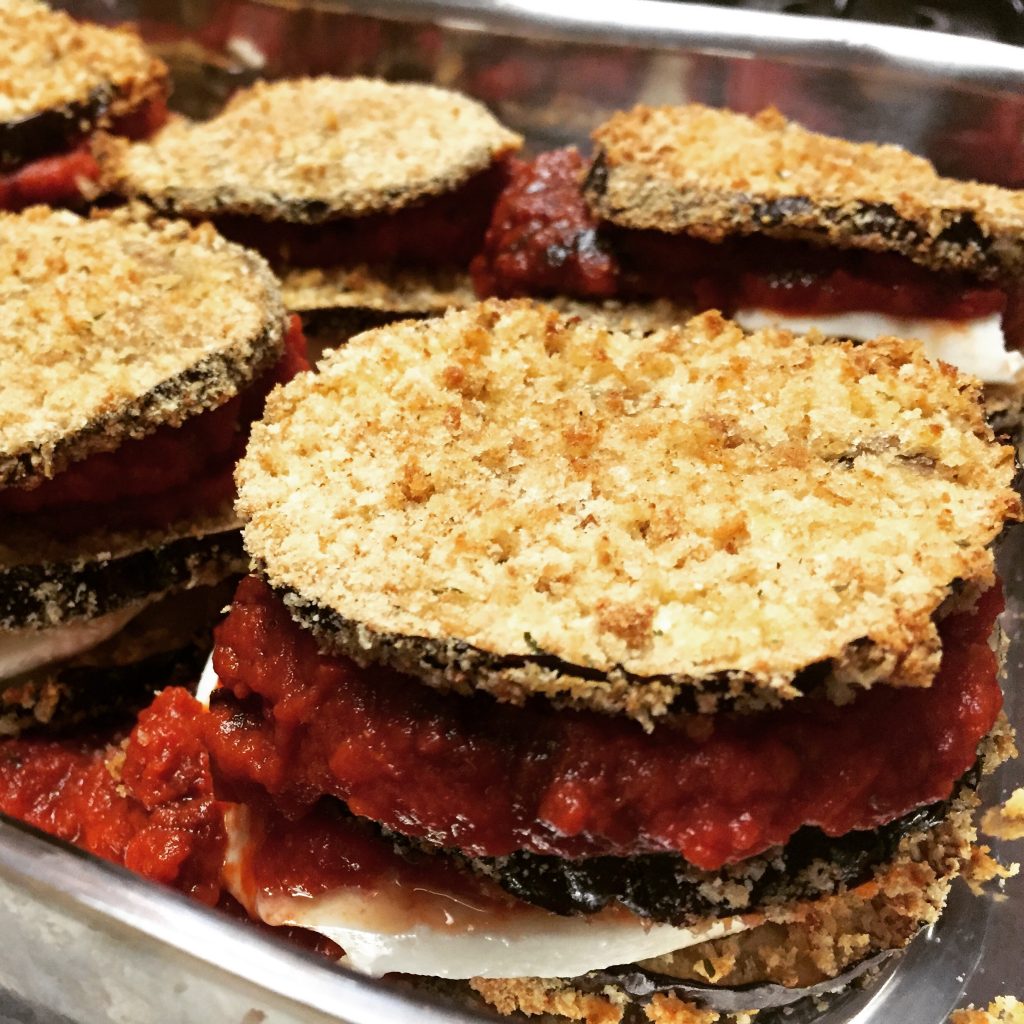 Serves 6
This baked version of eggplant parmigiana is just as tasty as the traditional fried version!
Ingredients
2 Large Eggplants, sliced thin into 24 slices
2 Eggs
1/2 Cup Egg Whites
1 Cup Panko Breadcrumbs
1 Cup Seasoned Italian Breadcrumbs
1/4 Cup Extra Virgin Olive Oil in sprayer
16 Oz. Fresh Mozzarella, sliced thin into 18 slices
28 Oz. Can of Crushed Tomatoes with Basil
12 Oz. Can Tomato Paste
Handful of Fresh Basil Leaves, Minced
2 Cloves Fresh Garlic, Minced
Salt & Pepper to Taste
Instructions
Preheat convection oven to 350 degrees (traditional oven at 375).
In a small saucepan, heat 1 Tbsp. Extra Virgin Olive Oil with garlic and basil over medium heat until fragrant.
Add crushed tomatoes and tomato paste to sauce pan, stir and cover. Leave on low-medium heat to simmer while prepping eggplant.
Line 3 baking sheets with parchment paper and spray each with olive oil.
Crack eggs into wide bowl and whisk together with egg whites.
In a separate wide bowl, mix together panko & italian breadcrumbs.
Dredge each piece of eggplant in egg and then coat with breadcrumbs.
Arrange in a single layer on baking sheets and spray to coat evenly with olive oil (about 1/2 Tsp per slice).
Bake in oven for approximately 30 minutes or until golden brown.
While eggplant is baking, keep an eye on the tomato sauce and turn off heat when it has thickened to desired consistency.
When eggplant is done, remove from oven.
Assemble eggplant stacks in a baking dish beginning with a layer of tomato sauce, then eggplant slice, cheese and more sauce. Each stack should have 4 slices of eggplant, 4 layers of sauce, and 3 pieces of cheese. This recipe will make 6 stacks.
Place stacks in oven for approximately 10 minutes or until cheese is melted.
Notes
If you don't have an olive oil sprayer, you can use a basting brush to spread the oil on the eggplant slices but use minimal amounts or they will become soggy.
Nutrition Facts per Eggplant Stack
526 Calories - 47g Carbohydrate - 16g Sugar - 26g Fat - 7g Fiber - 25g Protein
THIS RECIPE IS GLUTEN FREE (Be sure to buy Gluten Free Breadcrumbs) & NUT FREE
Family Style Nutrition http://www.familystylenutrition.com/