Have you ever taken a look at the ingredients & nutrition facts panel on jarred pizza/pasta sauce? The ingredients in Ragu's "Pizza Quick Snack Sauce" include Modified Food Starch (to prevent caking) and "Natural Flavors" (whatever that means!) It's also LOADED with sodium…a single 1/4 cup serving offers 16% of the daily limit. The jarred sauces also include added sugar (no thank you!). There's no reason to buy it in a jar when you can make your own with minimal ingredients in 10 minutes or less. I always make my own pasta sauces, and now I've started making my own pizza sauce. With half the sugar and salt of the jarred stuff, this recipe still offers up tons of flavor. Enjoy!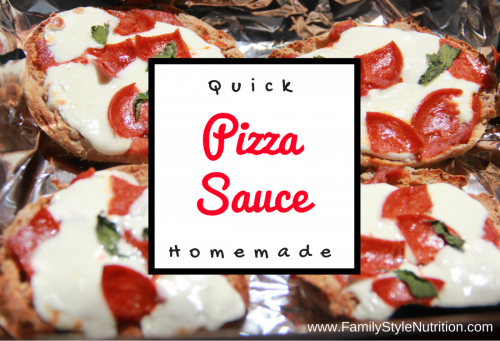 Quick Homemade Pizza Sauce
2016-09-16 12:55:18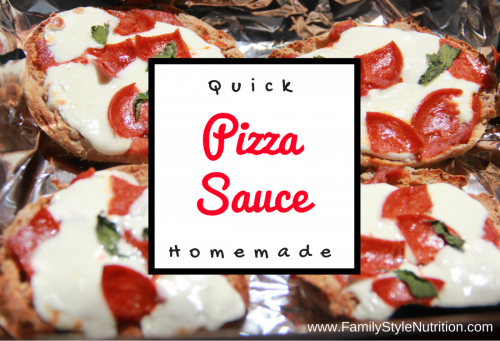 Serves 8
Ingredients
14 Oz. Crushed Tomatoes
6 Oz. Tomato Paste
1 Tbsp. Extra Virgin Olive Oil
1 Tsp. Garlic Powder
1 Tbsp. Oregano, dried or fresh
1 Tbsp. Basil, dried or fresh
Instructions
Over medium heat, add olive oil and garlic powder to a small sauce pan.
When garlic turns golden and becomes fragrant add canned tomatoes.
Stir in tomato paste, oregano and basil and cover.
Turn heat down to low-medium and simmer for 10 minutes, stirring occasionally.
Nutrition Facts per 1/4 Cup
54 Calories - 8g Carbohydrate - 2g Sugar - 2g Fat - 2g Fiber - 2g Protein - 81mg Sodium
THIS RECIPE IS GLUTEN FREE, NUT FREE, EGG FREE & MILK FREE
Family Style Nutrition http://www.familystylenutrition.com/