Grilling season is almost here, but you don't have to wait for Memorial Day weekend to make this yummy burger! I wanted to put some of the cheese my husband and I bought in the Finger Lakes last weekend to good use, and my did it punch up this meal! Enjoy this burger on whatever type of bread you like, or enjoy it as is with a salad. I put it on a Greenway Natural Flax Roll-Up and steamed some green beans (which I ate like they were french fries!)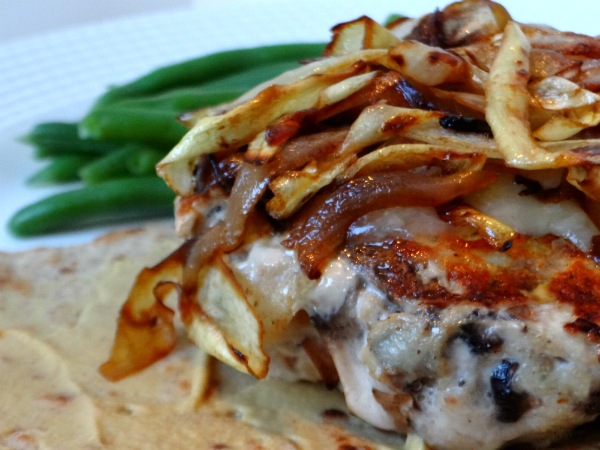 Turkey Mushroom Cheeseburger with Caramelized Onions
2015-02-10 09:03:30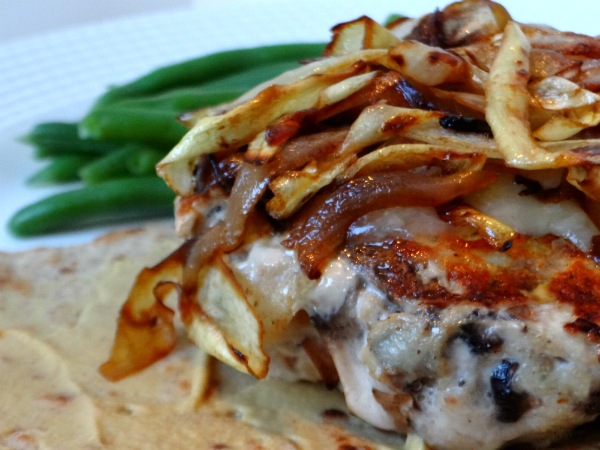 Serves 1
For the burger
4 Ounces Extra Lean Ground Turkey
¼ Cup Baby Bella Mushrooms, Sliced
⅛ Cup Progresso Italian Style Breadcrumbs
2 Tablespoons Egg Whites
Top with
½ Ounce White Cheddar Cheese, cubed
For the Onions
1½ Small Onions, Sliced
1 Tsp. Olive Oil
½ Tsp. Sugar
4 Tbsp. Water
Instructions
Combine all burger ingredients in a small bowl and form into a 1" thick patty. Set aside.
Heat a saucepan over medium heat. Add 1 Tsp. Olive Oil, 1 Tbsp. water, ½ Tsp. Sugar and Sliced Onions. Cook over low to medium heat, stirring frequently, for 40-45 minutes. Add the remainder of the water as needed to keep the onions from drying out.
About 20 minutes after you get the onions started, begin heating up a grill pan over medium heat. When the pan is hot enough, put your patty on. Grill for about 5 minutes on each side. Then add cheese and cover with a dome lid for 3-5 minutes more, until cheese is melted.
Serve burger on your choice of bread. Top with onions. Add a dollop of dijon mustard if you like.
Notes
Incorporating the sliced mushrooms into the burger patty not only bulks it up, but keeps it moist and gives it great flavor!
362 Calories - 27.8g Carbohydrate - 9.8g Sugar - 3.2g Fiber - 11.6g Fat
This recipe is NUT FREE
Family Style Nutrition http://www.familystylenutrition.com/
---