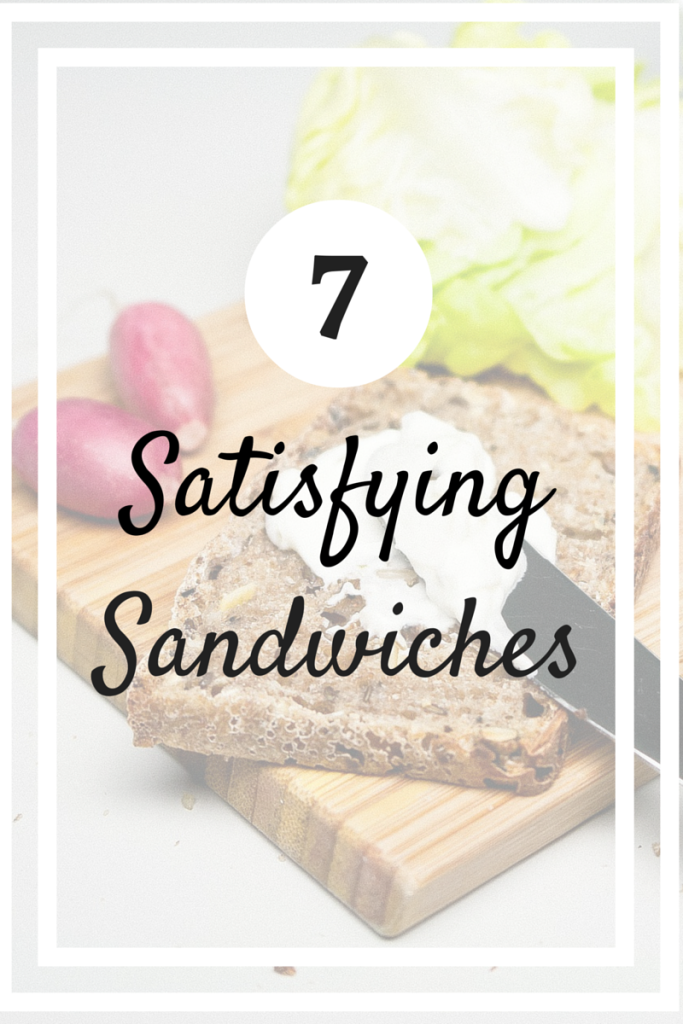 I've scoured the internet to find you 7 Sandwiches for an deliciously satisfying lunch! It's easy to get stuck in a lunch rut, and eat the same thing over and over, or to accidentally over-indulge in that 1000 Calorie Panini from Panera Bread. Don't fret, I've found some smart fast-food choices you can pick up, and some easy peasy recipes you can make at home!
1. Smashed White Bean & Avocado Club from Real Simple
This scrumptious creation is basically hummus topped with avocado on multigrain bread…3 of my favorite things and 3 of my favorite nutrients! Protein, "good" fat, and fiber, hooray! It also happens to be incredibly delicious and ready in less than 5 minutes.
2. Steak and Cheese Sandwich with Onions from SkinnyTaste.
If you're craving a steak & cheese sandwich, steer clear of restaurant versions and make it at home instead. This easy and delicious recipe from SkinnyTaste feels indulgent while clocking in at under 400 Calories and keeping the sodium amazingly low at 26.8mg. This one is better made on a weekend at home, since you want to eat it straight out of the oven and it might not travel well.
3. "Healthified" Egg McMuffin from SkinnyFork
Who says you can't have breakfast for lunch?These egg mcmuffin imitators are made a bit more waist-line friendly by using egg whites and low-fat cheese. Make a bunch ahead of time and freeze for a grab 'n go breakfast or lunch any day of the week!
4. Almond Butter & Fresh Blueberry Sandwich from Food & Wine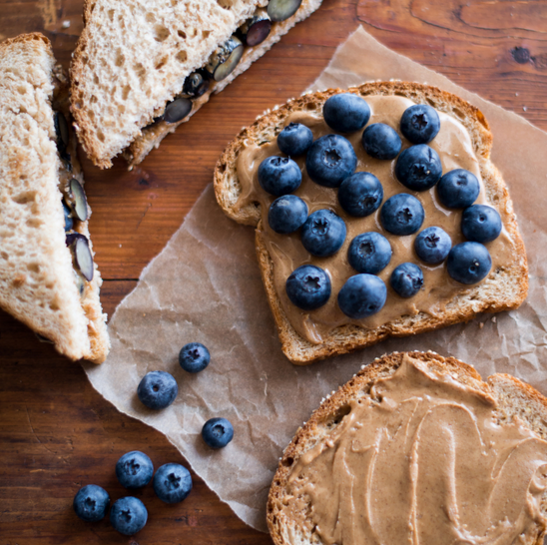 Blueberries are subbed for the jelly on this updated take on the classic PB&J. I love the idea of using fresh fruit instead of jam to keep the sweetness but cut down on the added sugar.
5. Turkey Taco Lettuce Wraps from Cooking Classy
Who says sandwiches have to be on bread? Take the taco filling and the lettuce leaves in separate containers and assemble at work (or school). I love the addition of all kinds of veggies and the spiced up lean turkey, yummy!
6. Grilled Peach, Brie & Basil Sandwich from Two Peas and Their Pod
I love the idea for these grilled peach, brie & basil sandwiches on whole grain bread but forego the 4 tablespoons of honey! You won't need all that extra sugar since the grilled peaches give the sandwich more than enough sweet to offset the saltiness of the brie. Mmm..mmm..mmm…
7. Roasted Turkey & Avocado BLT from Panera Bread

Panera Bread is not my favorite restaurant. In fact, if I can avoid it and eat somewhere else I will. However, they are EVERYWHERE and sometimes it's convenient to just pass through the drive-thru or pop in on a walk to the train. In those instances it is helpful to know the smarter choices on the menu, or you could fall into the 1000 Calorie trap I mentioned above by ordering the Steak & Cheese Panini! It's actually just OVER 1000 Calories….Holy smokes! The Roasted Turkey & Avocado BLT makes a much better choice. While it clocks in slightly higher in Calories than a few other options (Mediterranean Veggie/Tuna Salad), and the sodium is rather high, the Avocado, Bacon and Turkey mean it's also high in protein and will keep you full all afternoon. An even better option? Order a half sandwich and pair with a fresh apple.
That should keep you busy for a while! Comment below with your favorite sandwich recipes, I'd love to try some!