Who doesn't love a bowl of fettucine alfredo? While delicious, a portion of pasta with Alfredo sauce can contain upwards of 1200 Calories! With an earthier flavor and all the creamy texture, this healthy pasta sauce made without any cream or cheese has less than half the Calories of a traditional Alfredo and offers up a huge helping of veggies in every plate! I was lucky enough to learn the basic techniques for this sauce during one of my courses at NYU, and I've modified it a bit to include meaty mushrooms and some extra flavor.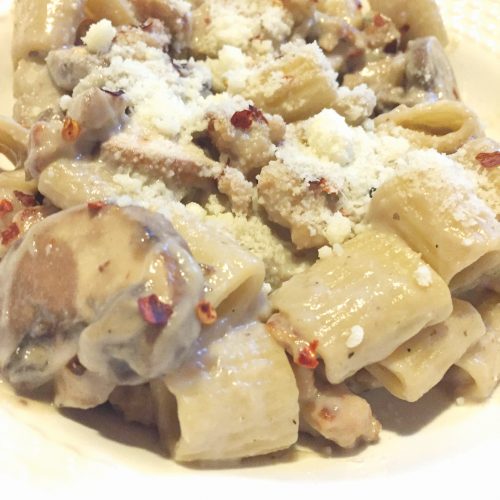 Healthy Mushroom "Alfredo" Sauce
2016-10-02 08:48:58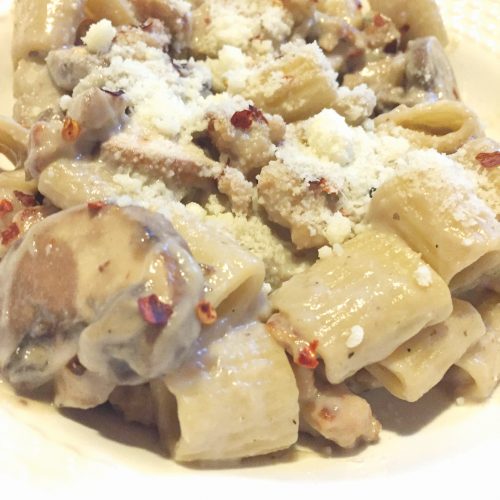 Serves 4
Ingredients
1 Large Head of Cauliflower, chopped
16 Oz. Baby Bella Mushrooms, sliced
2 cups 1% Milk
1/2 Tsp Salt
1/2 Tsp Pepper
2-3 Cups Vegetable Stock
3/4 Tbsp olive oil
Instructions
Add cauliflower, milk and half of the mushrooms to a medium saucepan and heat over medium-high heat, stirring frequently to prevent milk from scorching. Cook until cauliflower is completely soft and milk has reduced by half (about 20 minutes).
Transfer to a blender and puree, adding stock as necessary to achieve desired consistency.
In saucepan, add the olive oil and remaining mushrooms. Sautee until golden brown.
Add puree to pan with mushrooms and mix together.
Toss cooked pasta in a pan with sauce to coat before serving.
Nutrition Facts for 1 Serving of Sauce (1/4 of total batch)
147 Calories - 18g Carbohydrate - 12g Sugar - 4g Fat - 5g Fiber - 11g Protein
THIS RECIPE IS GLUTEN FREE, NUT FREE & EGG FREE
Family Style Nutrition http://www.familystylenutrition.com/